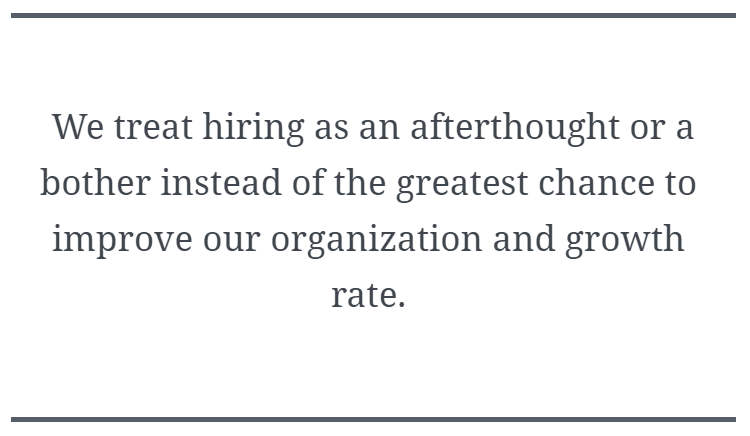 No hiring process in the world is designed to hire the best and brightest.
Are you talking to everyone in the world that does that job? That could do that job?
Are you able to measure directly the marginal value two years from now of hiring Person A versus Person B?
Are you hiring based on efficiency of time and resources?
Are you hiring based on total impact to the organization—or just what a potential hire will do with specific tasks?
How about the fit to the entire organization, not just to the role?
No, you're talking to who is available, without the ability to measure or know their impact, with only a smile, a suit, a piece of paper, and a few minutes of conversation to figure out things that have a massive long-term impact on your business.
Getting and managing the right people in your organization is vital to all forms of future success. So many organizations say they are who they are because of the people they have and how they hire. They say that their specific process has led to their success, and they would never change it.
The truth is that, while you may have a "process" and current people, you've done little to maximize the effectiveness of the process. Would you have been 10X your size or growth rate with different people? Would you be worse off? Most have stories but little else to stand by.
A growth mindset has to be part of every person you bring in. It has to be at the core of how teams are built and how success is measured. We can't directly measure specific traits. But we can maximize the probability of success. To do that, however, we have to rethink the entire process.
How we hire now—and why it doesn't work
How many of the questions above can you directly, correctly measure in your hiring process? The answer for almost all groups is a resounding zero.
Some groups get parts right, yet none really connects the process and filters with the desired outcomes. Most groups just follow a set process because it's what they've seen or what someone else told them to do.
We have a process that demands people tell you what you want to hear and make themselves more charming, not more valuable. We treat hiring as an afterthought or a bother instead of the greatest chance to improve our organization and growth rate.
What does hiring the best really mean? How are companies comparing their options? Are they relying on data or just "feel"? Are they confusing a potential hire's impact on the business with the Halo effect of one specific trait?
What do you really get if you hire Person A vs. Person B? Is it a 10% difference? A 20% difference? How can you tell? Remember that all their experience simply lays the groundwork for Day 1—it doesn't guarantee that they'll be able to identify and tackle the problems for your organization, your use case.
For most …read more
Read more here:: conversionxl.com