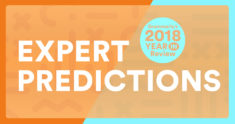 Identifying change is a difficult thing when you're looking through a microscope at a sliver in time. But if you think back to five or ten years ago and focus your attention on technological developments that have shifted the way we communicate, you can start to see the impact of those advances.
Every year, the world we know changes and becomes something new. In 2018, we saw the meteoric rise of artificial intelligence as the technology was largely embraced and became a part of our everyday lives. But as we approach the new year, it's natural to ask, "what will 2019 hold in store?"
To give you an idea of the possibilities, here are some of the trends experts say will impact the way you live, work and communicate online in 2019:
Your writing, at its best.
Be the best writer in the office.
Get Grammarly
The increasing ubiquity of AI
Last year was the year of AI, often referred to as machine learning. It brought with it smart replies and smarter AI that enabled the creation of more sophisticated writing-tech features. That will only increase over the next year, experts say, as companies and industries continue to buy into the technology.
"There are so many ways to use AI, it's almost impossible to describe its role: it can be a writer, a planner, a data analyst, and so much more. AI can help marketers interpret all of their data and put together better content marketing strategies," says Lilach Bullock, an online business expert, and coach whose reporting has focused on the relationship between AI and content marketing. "I think we'll see an even bigger impact of artificial intelligence on this type of [writing] tech, which I think can have both amazingly useful and dangerous implications in the near future. AI will help us write better and faster but it could also simply…write it all for us: blogs, news, and probably even books," she says.
A few examples of the kind of AI innovations that might exist are things like suggesting the statistically best subject lines for emails, calculating the best time of day to send those out, automatically highlighting questions or calls to action, creating better text summaries, or even suggesting topics for your blog.
An even bigger push for productivity
"Work hard" has already been replaced by "work smart." And as global economies shift, it's a trend that will likely continue, says Grammarly co-founder Max Lytvyn. "Employment levels are quite high, so you have to make current people more productive . . . And it's becoming more and more of a focus as unemployment drops in other economies outside of North America …read more
Read more here:: grammarly.com